Postponed- Public Meeting on Bacteriological Monitoring Project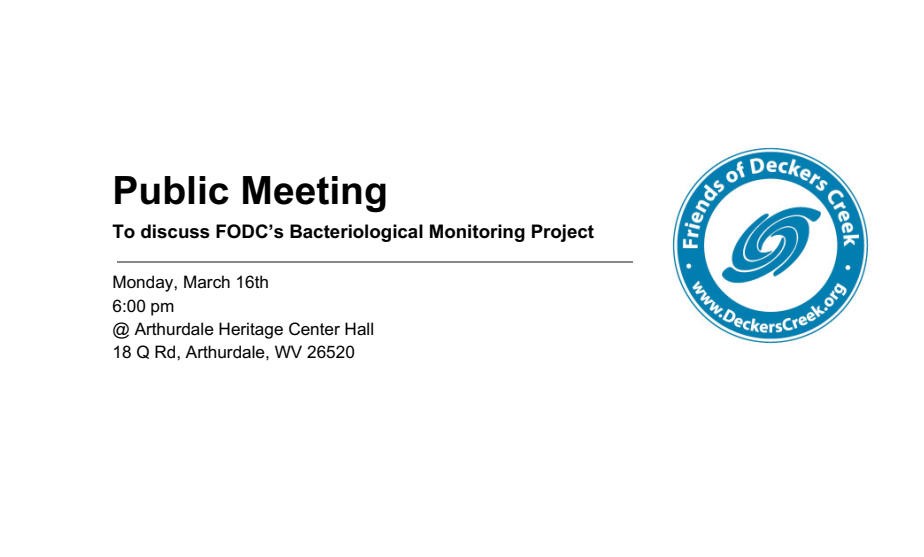 Friends of Deckers Creek has decided to postpone the forum due to the spread of COVID-19 until further notice. We apologize for the inconvenience, but we're dedicated to taking every precaution to keep our community safe and healthy. 
Friends of Deckers Creek is hosting a public meeting to discuss our Bacteriological Monitoring Project with the community.
Topics will include background information on the sources of coliform bacteria pollution in our watershed, our preliminary findings from water tests, resources for safe water recreation, and opportunities for you to help. Most importantly, we want to hear from YOU about how this issue affects your everyday life, and how we can work with the community in the future to develop a plan for tackling this longtime issue in our watershed. To learn more about this project, please visit: https://deckerscreek.org/bacteriological-monitoring/.
This meeting is open to the public, so please join us! Sit in on the conversation, express a concern, or learn something new. The meeting will be held at Arthurdale Heritage Center Hall on Monday, March 16th, at 6:00 pm. The address is 18 Q Rd Arthurdale, WV 26520.
**There will be an additional public meeting hosted in Morgantown — the date and location of which will be posted soon.**