Fishing in Deckers Creek 2016
First and foremost, I am a trout fisherman. To be specific, a fly-fisherman.
I have many hobbies and I can certainly be called many things. But fly-fishing for trout is what completely defines me and my personality. It\'s my world. When I am not fishing, I am thinking about it. When I dream at night, it\'s usually about catching fish. When folks at work see me pondering and think that I am deep in thought about some problem, I am most likely daydreaming about fish. I am a trout fisherman.
When something like that becomes your world, it invades your thoughts and observations all the time. As I drive around from place-to-place around West Virginia, every stream, creek and river within sight is noticed. From the road, I look for pockets and try to read the water as I drive along.
So it was with Deckers Creek. Sometime in the early \'80s, I remember having occasion to drive out Rt. 7 past Dellslow on my way to Kingwood for some reason. I saw Deckers Creek for the first time as a trout fisherman and immediately investigated the possible fishing destination. Deckers Creek in the area of Pioneer Rocks appears as an incredibly beautiful and classic trout stream. It has everything. Shade. Flow. Depth. Gradient. Laurel and rhododendron brakes. Terrain. Plunge pools. Aeration. Boulders.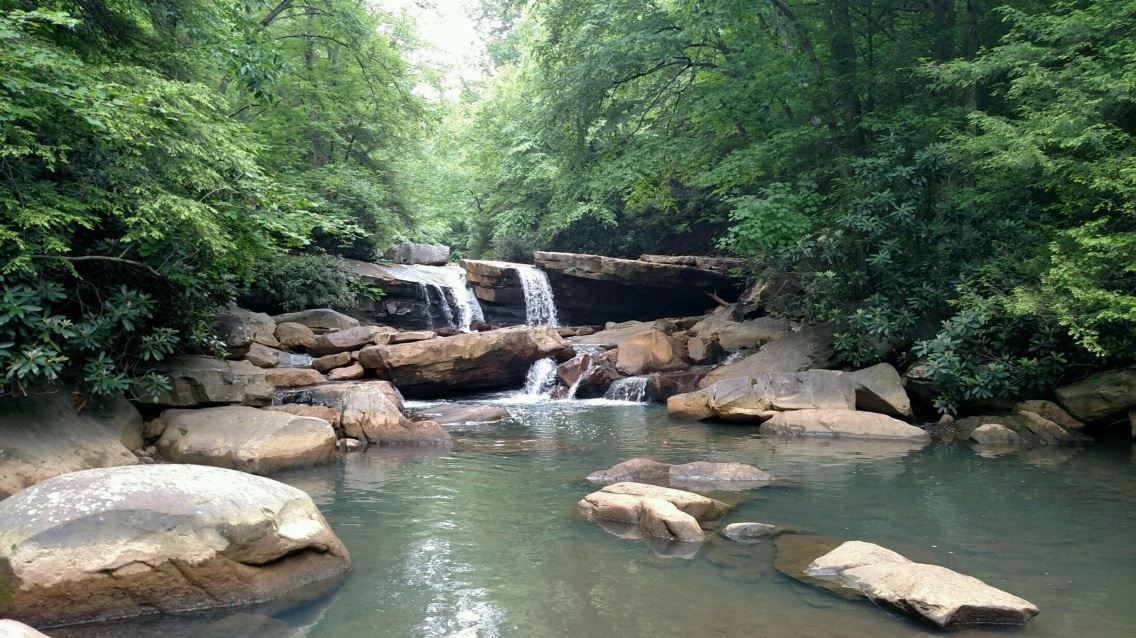 What it did not have was clean water. Back then, Deckers Creek was seen as a sewer. It was used as a sewer. It was - in fact - a sewer. Although there were many wistful thoughts of what Deckers Creek must have been like 100 years ago, I had no further ideations of ever fishing in beautiful Deckers Creek.
When I was 5 years old, my parents built a sandbox for us kids. Back then, you could drive up to the Greer Limestone quarry and buy bags of sand. On a hot summer day on the way back from buying sand, we stopped at a Rt. 7 roadside pull-off and were allowed to wade in Deckers Creek. I vividly remember only being allowed to wade. We were warned not to get into the water or let it get in our mouths or eyes. It was well-known to be dirty and unsafe. That was over 50 years ago.
Driving up Rt. 7 through Cascade back in those days was an adventure. There was a lot to see in Cascade: a power plant with a cooling water sprayer pool, houses along both sides of the road, a coal mine and tipple and a row of smoke-belching coke ovens. To drive through Cascade at night was especially exciting. The coke ovens filled the sky with orange-lit smoke that could be seen a mile away. This little pocket of industry was largely to blame for the condition of Deckers Creek. Years later, when the coal mines were sealed and the coke ovens were shut down, Deckers Creek remained a sewer. Literally. Pollution flowed endlessly from abandoned mining and manufacturing sites. Roadside dumps grew and festered. Straight pipes from local household were everywhere.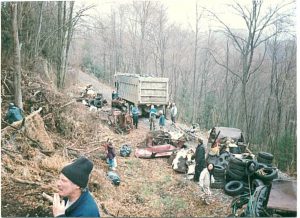 More years passed and the process of restoring Deckers Creek had already begun when I first heard of the Friends of Deckers Creek. The railroad tracks along Deckers Creek were removed and places like Cascade and Bretz had become Superfund sites for clean-up and remediation. Roadside dump sites were cleaned up. Over time, shacks and trailers located close the stream disappeared and with them went the nasty raw sewage straight pipes. Still, the very notion of a trout being alive anywhere in the reaches of Deckers Creek was not something that ever seemed likely in our lifetime, if ever. That was just not going to be.
Still, the very notion of a trout being alive anywhere in the reaches of Deckers Creek was not something that seemed likely in our lifetime, if ever. That was just not going to be.
Friends of Deckers Creek appeared at the right time and took the effort to fix Deckers Creek to the next level. Remediation of mining and industrial sites was a good start but advanced efforts would be needed to restore Deckers Creek as a valuable, recreational and freshwater resource for the local area.
Trout Unlimited (TU) is a national conservation organization that focuses on water resources. TU is inhabited by people like me: trout fishermen. TU has a local chapter here in Morgantown. TU members have a tendency to keep tabs on water quality in and around their local areas. Over the years, some of our local TU members were keeping tabs on Deckers Creek. TU guys like to do peculiar things like plant temperature loggers in streams and collect real water quality data on marginal streams for their own personal edification, so they often know when the water in a stream like Deckers Creek improves or deteriorates. A few years back, a local TU member who lives within sight of the upper reaches of Deckers Creek decided it was time to try some trout in Deckers Creek. The DNR actually listens to TU guys about things like this. There were at least two stealth stockings in Upper Deckers by the DNR. For at least three years now, the local TU chapter has also stocked fingerlings in Deckers Creek. Deckers Creek will continue to receive trout stockings and attention from our local chapter of Trout Unlimited. Deckers Creek will someday receive trout fingerlings from local Trout in the Classroom setups that TU operates in local schools.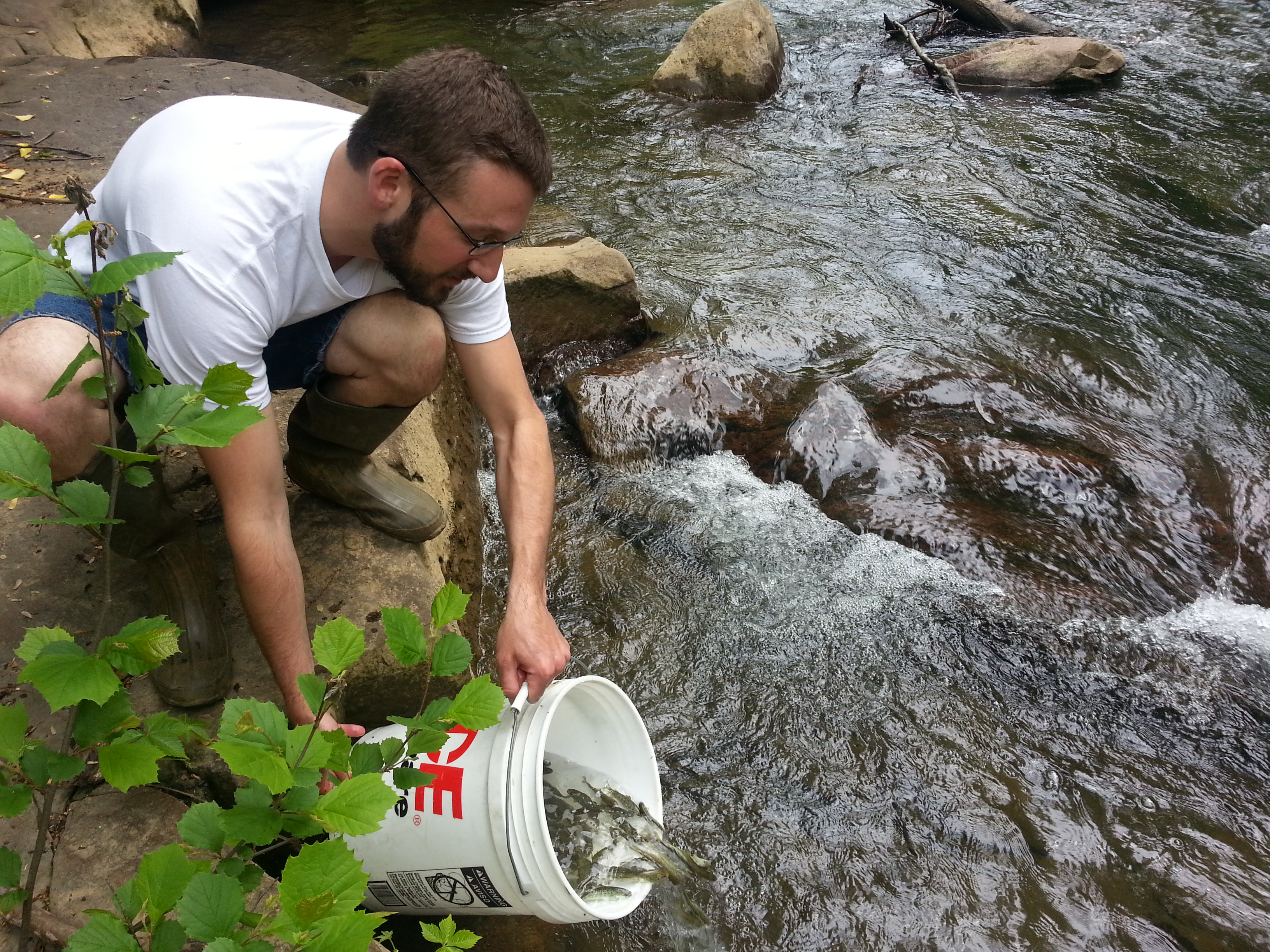 No sooner than the first trout stockings in Deckers Creek began that reports of fishing success began filtering back through the local trout fishing circles.
I was initially excited when Holly asked me to write something for the FODC newsletter about fishing for trout or catching trout in Deckers Creek. But my second thought was that I am actually not qualified to do it. I have never caught a trout in Deckers Creek. I have never even fished in Deckers Creek. To do this right, I would need to make a firsthand report on my own Deckers Creek fishing experience.
There are two sections of Deckers Creek that appear as viable trout water. One is the grade above Dellslow in the Pioneer Rocks area. The other is further upstream in Preston County near the Cascade Lions Club Roadside Rest Area on Rt. 7. The initial focus for stockings was on the upper section near Cascade. Although there was recently a report of a large brown trout caught in the Pioneer Rocks area, I chose to make Cascade my destination due to having heard a couple of reliable reports of good trout fishing in that area.
On July 3, 2016, I put a couple rods in the truck and drove out Rt. 7 to the Cascade Lions Club pavilion. I parked, got out my rod, put on wading boots, tied on a size 12 Adams, climbed over the bank and - for the first time in my life - cast a fly into the waters of Deckers Creek.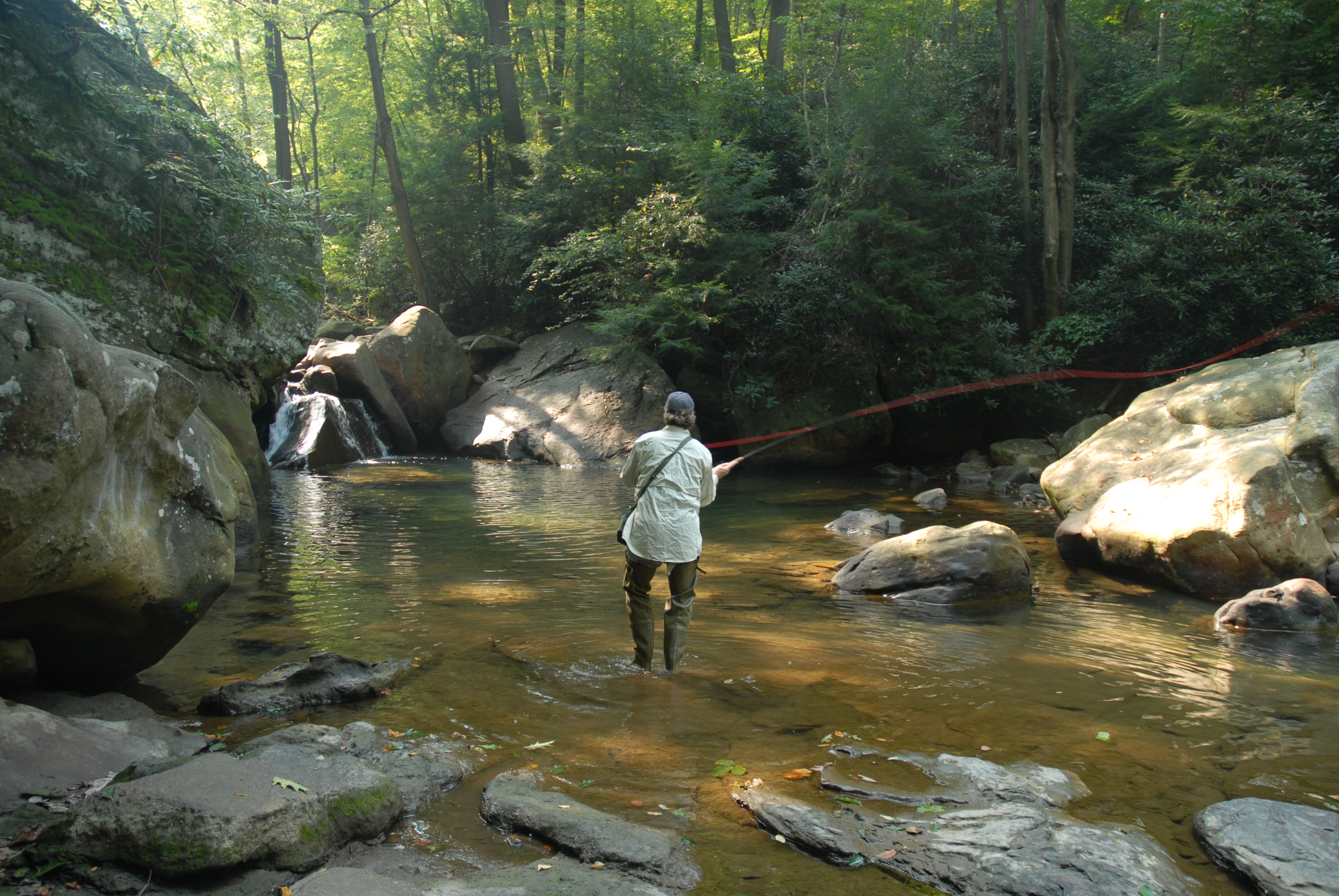 It didn\'t take long. Not much time was spent on the big deep waterfall plunge pools adjacent to the Lions Club park. I bouldered my way downstream to some more reasonable and fishy looking pockets. The water temperature was 68 degrees at 3:00 p.m. on a July day. My first fish was a brown trout that rose aggressively to my dry fly. As I played it in gently on a 6-foot 2-weight rod, I noticed several other sizable game fish exhibiting frenzy behavior around it in the water as it struggled and fought. Naturally, after the brown trout was photographed and released, I decided to see what I could do to catch those other fish I had seen. I ended up catching and releasing over 12 fish from that same pocket. No more trout but some very colorful and large sunfish and numerous creek chubs, one of which was the largest fish I caught that day.
I caught three more brown trout that day as well as at least a dozen more sunfish and creek chubs. As the day wore on and I reached that point where good judgment finally overcomes the drive to make one more cast, I had not yet reached the downstream end of interesting fishing water in the Cascade section. I was downstream close to a mile from the Lions Club Park and the pocket water continued to run downstream as far as the eye could see. I determined to get back up there at the next opportunity and fish the rest of that section.
Deckers Creek will continue to improve and the future is bright. I now have a new trout fishing destination and it\'s within 15 miles of my home in Morgantown. That\'s incredible. Much work remains to be done on Deckers Creek. The effects of massive pollution and abuse is very much visible and apparent to anyone who gets close to it. However, I can now
foresee a day when trout populate longer reaches of the stream and in greater numbers. To a trout fisherman like me, this is something that was pure folly or nothing but a pipe dream barely a generation ago.
To a trout fisherman like me, this is something that was pure folly or nothing but a pipe dream barely a generation ago.

Now it\'s reality. Thanks FODC. Thanks TU.
Now it\'s reality. Thanks FODC. Thanks TU.
So let\'s not keep this a secret. Go fish Deckers Creek. Get the word out. More fishermen can only make it better. Deckers Creek already has its own fly shop too! On your way out Rt. 7, stop in to Dan McBee\'s fly shop for a few supplies, some fishing stories and some good advice.
It\'s the first building on the left after you turn into Brookhaven Road. Tell Dan I sent you.